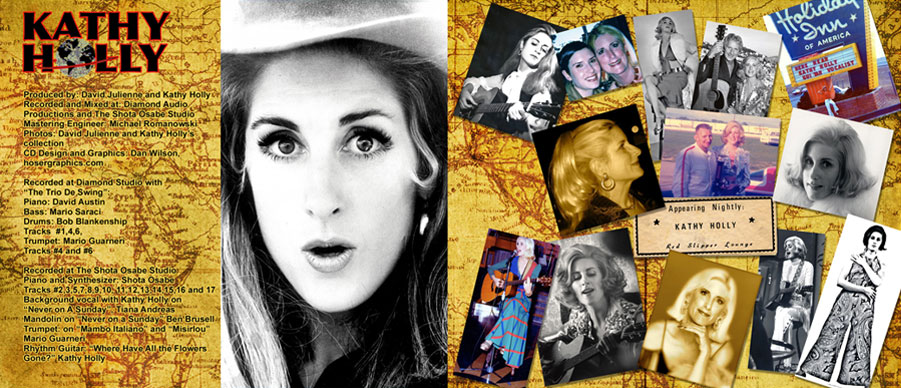 About Kathy Holly
Kathy Holly is a native San Franciscan, vocalist, musician, bandleader, actress, voice-over artist and teacher.
Kathy began singing and acting at the early age of 6, when she had the lead role in the play Little Boy Blue (it was an all girls school!) From then on she had the "show biz" passion and produced and directed her own variety shows for the family, casting her young cousins in roles.
During her career she has had lead roles in musicals and plays, dramatic and comedic; and toured with the White Oaks Repertory Company, acting in plays and musicals for children in culturally and economically deprived areas. Most recently she was in the cast of San Francisco's long-running musical comedy, Are We Almost There?.
As a solo singer/ guitarist Kathy has worked in hotels, clubs and restaurants from Los Angeles to Florida. As a Cabaret performer and International Chanteuse (she sings in 8 languages), Kathy has entertained on Cruise Ships and in venues in Europe, Thailand, Australia, Philippines, China and Korea.
Back in the San Francisco Bay Area, Kathy is a bandleader and musician/ vocalist with her own bands: Route 66 (Country music); The Top Hat Band (Swing & Variety Dance music); Barbary Coast Four (Dixieland Jazz); International Affaire (Popular Ethnic Music) and the Kathy Holly Trio (Jazz). During the last several years, Kathy has worked in the Bay Area's major hotels, restaurants and clubs, having been hired to play music for corporate and private events, weddings, anniversaries and also street fairs.
Kathy is an expert at helping to make your event come alive with music and personality, using her ability to "tailor-make" the dance or listening music to fit your theme and make your event a success. Working with the best professional musicians, Kathy can interact with her audience and take requests. As an experienced entertainer, Music and Acting Teacher, she is familiar with every situation and all age groups, social and ethnic backgrounds. The list of possibilities is endless with Kathy's ideas for music and entertainment.
Kathy is a member of SAG, AFTRA and American Federation of Musicians.
MUSICIAN / VOCALIST/BANDLEADER/PRODUCER
"The Top Hat Band" Swing Band;"Route 66" Classic Country; "Barbary Coast Four" Dixieland; and "International Affair", Int'l Pop from 8 Countries
PRODUCER/DIRECTOR/VOCALIST OF ENSEMBLE GROUP AND SHOWS
"UPTOWN SINGERS!" The Best of Opera to Broadway and Cabaret
"SUPPER CLUB" Six Singers from Jazz to Cabaret
"TASTE OF FRANCE" A Tribute to Edith Piaf and other French Singers
WHERE HAVE I WORKED?
In major Hotels and Private Clubs in the San Francisco Bay Area and beyond; and lounges in Nightclubs and Restaurants in the Bay Area and beyond.
NITECLUBS AND RESTAURANTS - REPEAT ENGAGEMENTS IN  SAN FRANCISCO & The Bay Area
Café Society, Napa, Café Fino, Palo Alto, Nora's Café Palo Alto
San Francisco: Ville D'Este Restaurant, The Gold Mirror, La Tasca, The Sausage Factory, Café de Paris, PJ Mulhern's, Mooses;
Sausalito:  Café Treviso, &  Saylor's Landing, Sausalito Women's Club
ON THE ROAD
As a Solo Singer/Guitarist and bandleader in  Hotels and Clubs across the United States: New Mexico, New York, Florida, Wyoming, Montana and Casinos in Nevada.
PRIVATE EVENTS IN THE BAY AREA
Chinatown Opti-Ms. Club, Annual Ball
Auction Napa Valley, Club D'Oro, Cupertino, Asian Cultural Project Dinner/Dance
Carpenters Union 100th Anniversary Party, St. Francis Hotel
State of California Bldg & Construction Trades Anniversary, City Hall San Francisco
Sausalito Women's Club Fundraiser
Wedding Reception,  Farmhouse Inn, Guerneville
Birthday party, Kirin Restaaurant, San Francisco
University of California Chinese Alumni Pre-Game Party
INTERNATIONAL PERFORMANCES In Hotels, Clubs and On Cruise Ships
Krems, Austria and Lotte Hotel, Seoul, Korea
Cruise Ships to China & Performance at the Workers Cultural Palace & Children's In Palace in Shanghai & Friendship Hotel in Bejing & Exchange Performances on the Cruise Ship, Aquamarine Carribean, Alaska
USO Tour: Thailand, Phillipines, Guam, Australia and Diego Garcia